Enable your Mac to read TNEF and MSG email messages
Macs don't natively support WINMAIL.DAT and .MSG files that came with Microsoft Exchange and Outlook. This can be a problem if you are dealing with clients or individuals that use Windows PCs. To resolve this issue, you will need install third-party apps mentioned below:
Enable your Mac to read old Microsoft Outlook .msg fles. MailRaider can read Outlook emails and extract its attachments.
Download MailRaider here:
http://www.45rpmsoftware.com/45RPM/mailraider.shtml
Screenshot:
Another Outlook to Exchange rich text (or MAPI) message format is a Microsoft TNEF stream file. The file id usually received by SMTP based e-mail programs from Microsoft Exchange and Microsoft Outlook users. The SMTP based e-mail program will usually receive either a MIME attachment named "winmail.dat" or a MIME attachment with the type "application/ms-tnef.
Download TNEF's Enough here:
http://www.joshjacob.com/mac-development/tnef.php
Screenshot: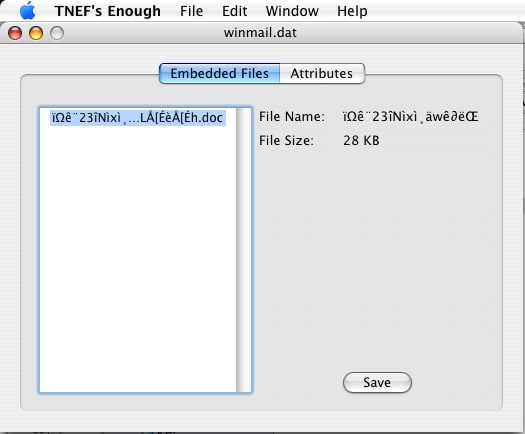 Post Title :
Enable your Mac to read TNEF and MSG email messages
winmail.dat,